Book

Elements of English Law (1914)

Geldart, W.M.
Book-plate

Yes

Menzies Location

Study (16b)

Location

13.1
Details
Inscribed in black ink on front endpaper: 'Robt [sic] G. Menzies, University, 1915.'
Page 150, dealing with trusts, turned over at the top. Underlining and marks in margins in ink in chapter 1, 'Statute Law and Common Law' and chapter 6, 'Property'. Underlining in ink in chapter 7, 'Torts'.
Related Entries
Digital Resources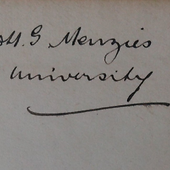 Title

Ownership signature

Type

Image

Date

1915