Book

The Queen Elizabeth Coronation Souvenir (1953)
Book-plate

Yes

Location

13.6
Summary
Acknowledged: 9 December 1953.
Details
Card affixed to front endpaper inscribed in blue ink: 'Good Luck next year' [signature indecipherable].
Includes two loose black and white prints. One shows Queen Elizabeth II, Prince Philip, the Queen Mother, a young Prince Charles and other members of the royal houshold. The other shows Queen Elizabeth II, Menzies, Winston Churchill and other Commonwealth dignitaries.
Related Entries
Digital Resources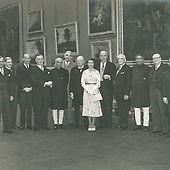 Title

Queen Elizabeth II, Robert Menzies and other Commonwealth Leaders

Type

Image